ACFSA News Releases
The ACFSA News Release Page was created to increase awareness of the association and recognize the work and accomplishments of our members throughout the United States and Canada.
9/26/2017
-
Press Release
2/20/2017
-
Press Release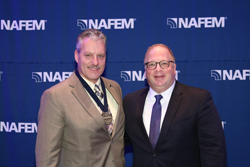 ORLANDO – NAFEM congratulates the recipients of its Doctorate of Foodservice (DFS) award, presented at each NAFEM show to allied hospitality association leaders in recognition of their contributions to the industry. Honorees were recognized at the All-Industry Awards Breakfast during The NAFEM Show, Thursday, February 9, Orange County Convention Center, Orlando, Florida.
NAFEM presents 2017 honorary doctorate of foodservice awards
1/23/2017
-
Press Release
6/27/2016
Nutrition Services in Correctional Facilities
Learn about the duties RDs perform...
3/4/2016
Food, Power and Punishment - a BBC World Service radio program about Prison Food.
Please take 30 minutes of your day to listen to the whole program.
12/18/2015
New York Prisons Take an Unsavory Punishment Off the Table
12/18/2015
Is it fair to punish prisoners with horrible food?