Dietetics in Health Care Communities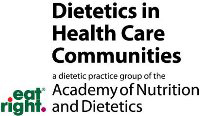 Did you know DHCC has a Sub-unit specifically for Members who are employed in Corrections?
Joining a Sub-unit is easy and can enhance your career by connecting you with colleagues who also work in the same environment that you do!
Have a menu problem, special dietary issues or just a general question? There is a member out there that can help you solve your problem.
Please join DHCC or renew your DHCC membership and join the Corrections Sub-unit to access many member benefits including newsletters and webinars with CPEU opportunities, Forum electronic mailing list (EML) and more. You can add your name to the Sub-unit list at
http://www.dhccdpg.org/pro-resources/
.
Membership for DHCC is only $30! The Sub-units have no additional charge.
You can join when renewing your Academy dues, through
www.eatright.org
or call 800-877-1600 ext. 5000. Or visit our website at
www.dhccdpg.org
.
Barbara Wakeen, MA, RD, LD, CCFP, CCHP
ACFSA Chair Dietitians in Corrections
Marlene Tutt, MS, RD
DHCC Corrections Sub-unit Chair
ACFSA Network Coordinator