Conferences and Events

Calendar view
ACFSA events:

Webinar: Food and Nutrition Therapy for Substance AbuseFebruary 20th, 2018

Webinar Free for members; $49 for Non-Members

Substance abuse of alcohol, prescription medications, and illegal drugs is a growing area of concern in our society. How much do you know about the food and nutrition needs of this population when they enter your facility? Can a substance lead to a food addiction? Learn about this and more...

California Chapter Meeting

July 18th, 2018
Stockton, CA


ACFSA 2018 Annual International ConferenceSeptember 16th-19th, 2018

Norfolk, VA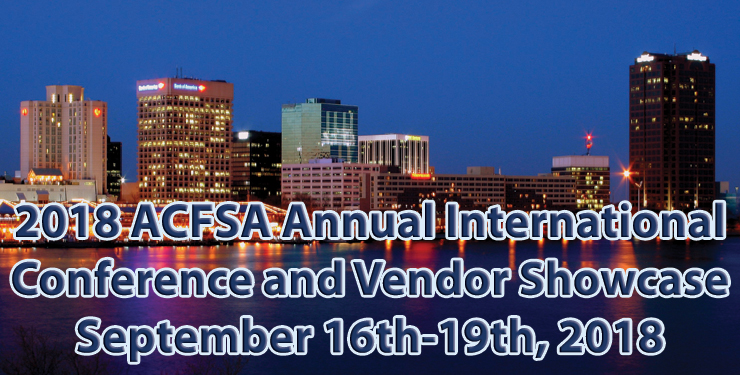 California Chapter Meeting

October 17th, 2018
Ventura, CA

---
ACFSA Chapter events:
California Chapter

California Chapter Meeting
April 18th, 2018
Fresno

California Chapter Meeting
July 18th, 2018
Stockton, CA

California Chapter Meeting
October 17th, 2018
Ventura, CA

---
Northern Lakes Chapter

Midwest Foodservice EXPO
March 12th, 2018
Milwaukee, WI

---
Webinars

Webinar: Food and Nutrition Therapy for Substance Abuse
February 20th, 2018

Webinar Free for members; $49 for Non-Members

Substance abuse of alcohol, prescription medications, and illegal drugs is a growing area of concern in our society. How much do you know about the food and nutrition needs of this population when they enter your facility? Can a substance lead to a food addiction? Learn about this and more...

---
Industry Calendar: 2018