Certification Program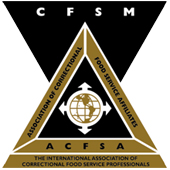 Objectives of the ACFSA Voluntary Certification Program:
To provide a nationally recognized professional certification program for individuals employed in the corrections field
To enhance professional development and recognition
To support professional continuing education.
To achieve these objectives, ACFSA, in conjunction with Continental Management Consultants, has developed a correspondence course geared specifically for the line supervisor. It is anticipated that the successful participant will take approximately 12 months to complete the course. An enrolled participant will receive a workbook, textbooks, testing and all other course materials required.
Successful completion of this course gives you the designation of CFSM -- Certified Correctional Food Systems Manager.
Technical training and recognition of competence are the cornerstones of professional growth and advancement. The purpose of this comprehensive and exciting new course is to provide members of ACFSA the opportunity to obtain that recognition, in addition to meeting ACA and correctional agency training requirements. Further, participation in this course will foster a professional and knowledgeable workforce in one of the key areas of the correctional environment: food service.
Course components:
Course work includes a minimum of 80 hours of classroom and home study work.
Field experience provides an opportunity to practice what you learn through the course work.
Testing gives you the opportunity to show the benefit of the course and field work (a proctor will be required to complete the testing process).
Course highlights:
Introduction to the correctional foodservice profession
Basics of menu planning
Understanding nutrition and modified diets
Quantity food production practices and standards, receiving, storage, preparation, holding and service
HACCP
Warewashing and kitchen sanitation
Safety in the workplace
Custody, security and working with inmates.
What the fee covers:
The fee of $299 for ACFSA members will include all necessary materials (workbook, manual and textbooks), including:
Correctional Food System Management Course Workbook;
ACFSA Food Service Manual;
Drummond, K.E. and Brefere, L.M., Nutrition for Foodservice and Culinary Professionals, Sixth Edition, John Wiley and Sons (New York), 2007.
Grossbauer, S., Foodservice Management & Food Safety, Dietary Managers Association, 2006.
Recertification is required every two years; the fee is $35.00.
Use of CFSM Designation:
As a Certified Correctional Food Systems Manager (CFSM), you may use the CFSM designation with your name on letterheads, business cards, and all forms of address.

Certification is for individuals only. The CFSM designation may not be used to imply that an institution or firm is certified.
Certification Documents
If you have questions, or can't download these forms and need them mailed to you, please contact ACFSA headquarters